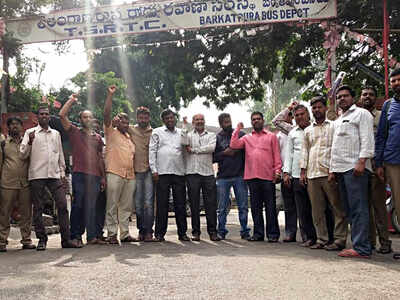 HYDERABAD: Legal experts said that the chief minister does not have the authority to dismiss TSRTC employees involved in the ongoing strike. They added that if the RTC management follows the diktat of the CM and does not allow the employees to join their duties after the strike, they can always go to the court.
The RTC management will first have to issue a show-cause notice to the employees seeking an explanation for not reporting to duty despite the deadline given to them to join work by 6 pm on Saturday. Subsequently, the employees will give their respective explanations. Then their explanations will have to heard and considered as per the law. Some of them may not have reported to duty due to health reasons and other emergencies. It cannot be assumed that the strike is the only reason behind the employee not reporting to work, experts said.
"The decision taken to remove an employee from service is based on the employee's explanations, and can always be challenged in a court of law by the affected party. Employees cannot be removed by a mere announcement by a chief minister or even the managing director of TSRTC," advocate P V Krishnaiah who deals with employees-related cases said,
CM K Chandrasekhar Rao had categorically stated there is no question of taking back the employees who have not joined work before the deadline. Less than 1,200 employees who reported to duty before 6 pm on Saturday will remain with TSRTC, KCR said after his review meeting with the officials on Sunday.
"Where is the question of dismissing or removing them. Their strike was declared illegal by the labour commissioner as the unions did not wait for mandatory 7 to 8 days after their talks. Strikes in RTC are prohibited. Laws were violated by employees and their unions," an official said.
High Court advocate Khaja Aijazuddin said a unilateral decision is impermissible under law. "Any decision by the government which is contrary to law is always amendable under article 226 of the Constitution of India," he said.
(Courtesy Times of India)