Protests only bulwark as India veers from democracy to theocracy.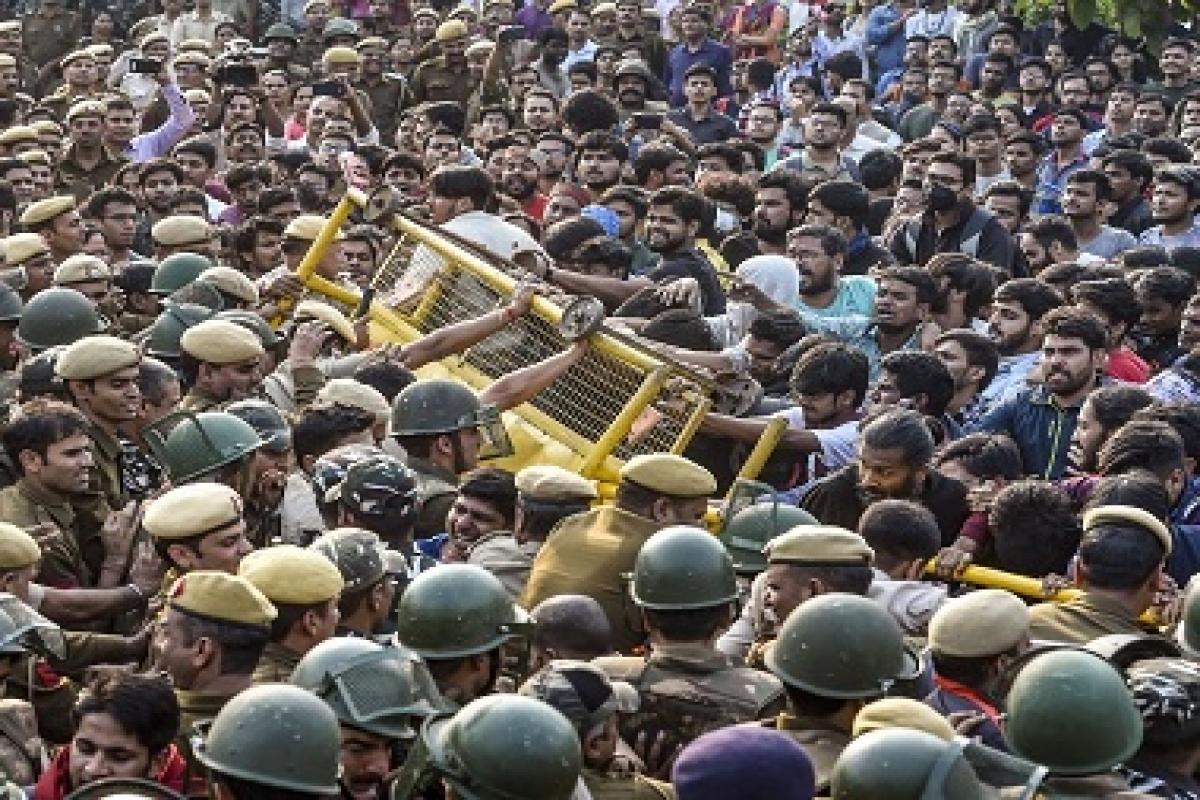 The protests against the Constitution (Amendment) Act (CAA), 2019, seem to have rocked the Union government, which, as we know, is responsible for law and order in Delhi, and several Bharatiya Janata Party (BJP) governments in the states. Draconian measures like the imposition of Section 144 of the Criminal Procedure Code (CrPC) and wholesale arrests in some parts of the country are signs of panic within the ruling party. It suspects, at the very least, that the implementation of the CAA won't be a walk in the park.
On Thursday, 19 November, large swathes of the country were convulsed by protests. Students and people from all walks of life joined in, without waiting for a lead from any political party. In the first place, the protests, which began in Assam and then spread via Meghalaya to West Bengal, Delhi and other parts of the country, were spearheaded by students, acting spontaneously and autonomously. It was the students who catalysed the protests and bound them into a coherent nationwide movement. By Thursday, however, some political parties were forced to shake off their lethargy and join the movement, as people poured into the streets.
Some parties chose the sectarian path of organising separate rallies instead of joining the citizens' protests, which would have sent Delhi and the BJP a much stronger message. In Kolkata, for instance, 17 Left parties organised a rally from the Ramlila Maidan, soon after a citizens' rally had set off. And the Congress, too, held its own rally. Chief Minister Mamata Banerjee also held a separate rally.
Despite these glitches, it is abundantly clear from what transpired on Thursday that the government is rattled. What else would explain the imposition of section 144 in all of the largest and most populous state in India? One person was killed in police firing in Uttar Pradesh on Thursday and 10 more on Friday, though the police claimed only six people had died. Chief Minister Yogi Adityanath proudly announced that the rioters had been identified on CCTV recordings and their properties would be seized to compensate the state for damage to its properties. It is true also that the protests were violent in many places in the state, including Lucknow, over two days. The Uttar Pradesh police chief claimed his forces had not fired a shot. Of course, not in anger.
Two people were killed by the police in Mangaluru, when police fired on protesters trying to set Mangaluru North police station on fire. No denials there. A short distance away, in Karnataka's capital, Bengaluru, police rounded up peaceful protesters, including sociologist, historian and columnist Ramachandraa Guha, a 2009 Padma Bhushan awardee. The latter provoked an international outcry. To circumvent prohibitory orders, students and faculty members of the Indian Institute of Management, Bangalore, staged a 'relay protest' in batches of three.
In Delhi, 1,200-odd protesters were rounded up, including Communist Party of India's D Raja, Communist Party of India (Marxist) general secretary Sitaram Yechuri and party comrades Brinda Karat and Nilotpal Basu; the Congress's Sandeep Dikshit and Ajay Maken and activists Yogendra Yadav, Prashant Bhushan and Harsh Mander. Section 144 was imposed on parts of central Delhi and the Red Fort area, but masses of citizens convened at Jantar Mantar, where crowds remained till 8:00 PM. Twenty-one Metro stations were closed.
Elsewhere, protests were peaceful, by and large. In Mumbai, 25,000 protesters assembled at August Kranti Maidan and in Bihar a bandh called by Left parties hit road and rail services. In Kolkata, apart from the rallies mentioned, Chief Minister Mamata Banerjee led a rally and called for a United Nations-monitored referendum on the CAA. In Jaipur, a gold medal-winning student attended his convocation wearing a black band to protest CAA. He was detained, questioned about why he was wearing the band and released. There were no reports of violence from most parts of India.
There are several conclusions to be drawn from the protests against the CAA, which has been continuing for over a week, culminating in Thursday's almost coordinated meetings across the country. First, the eloquent leaders of the government are running for the hills. An unexpected fallout of the agitation is that the government has now disavowed the putative National Register of Citizens (NRC). It issued advertisements in a number of newspapers on Thursday saying a nationwide NRC was not on the cards just yet.
The government also issued a statement saying that there were no immediate plans to prepare an all-India NCR (or National register of Indian Citizens). It was yet to be notified and no rules and instructions had been framed for its implementation. Minister of State for Home Affairs G Kishan Reddy also clarified that rules for implementing the CAA had not yet been framed and would be only after normalcy is restored. It is to be hoped, then, that protesters will keep resisting the imposition of the Union government's version of 'normalcy', until the Supreme Court passes a verdict.
There is another issue that seems to come out of the protests near Jamia and in parts of Bengal. This is the role of agents provocateurs. Jamia students had to be dragged out of hostels, toilets, an on-campus mosque and the library, being assaulted in the process by Delhi Police. It is not as if they were apprehended in flagrante delicto, in the act of perpetrating violent acts, or vandalism and the like. This gives credence to the students' protestations that they were not involved in these but were protesting peacefully. Some of the vandalism and arson happened a good distance away.
In Bengal, too, the vandalism and the attacks on railway property make no sense, given the repeated assurances offered by Banerjee and others in government and the ruling party that neither the NRC nor CAA would be implemented in the state. This provokes the suspicion that agents provocateurs have been responsible in many places for inciting and perpetrating violence to discredit people peacefully contesting a discriminatory and prima facie unconstitutional piece of legislation.
Credence is lent to this supposition by the arrest in Murshidabad district of six men wearing lungis and skullcaps for throwing stones at trains. They were handed over to the police after being caught by local people. One of them, the people said was a BJP worker called Abhishek Sarkar. The six men, all Hindus, said they were wearing lungis and skullcaps because they were shooting for a YouTube video, which was exposed as an obvious lie. Five of them, three minors included, have been booked.
In Uttar Pradesh, two Rashtriya Swayamsevak Sangh activists were allegedly spotted vandalising public property. Many protesters said that some among them were behaving strangely and suspiciously. The police, it appears, were more intent on fanning the flames rather than containing it.
The final conclusion to be reached is that in Delhi, Karnataka and Uttar Pradesh, the actions of the police and other authorities were disproportionate and 'paranoid', as Guha called it. No part of Karnataka had experience much by way of anti-CAA protests and certainly not violence. So what provoked the administration to invoke Section 144? The Supreme Court has held in a series of judgments over the years that while the administration can invoke Section 144, this invocation must pass the test of reasonableness. In Karnataka, it surely did not.
Nor in Uttar Pradesh, where there had been no history of widespread protest against the CAA, violent or otherwise. Adityanath was reported to have said on Thursday that Section 144 had been in place in the state since 8 November and no one in the state had the right to protest. Wonderful. Around 3,000 politicians and activists had been sent notices warning them not to participate in protests. We all know what happened in Delhi and Aligarh.
These disproportionate state responses points to a phenomenon that many citizens—academics, journalists, activists and others—have been pointing to for some time now. The imposition of a state of undeclared emergency under which Opposition politicians, activists, media houses, writers, filmmakers and others in the cultural space; critics of the establishment in social media; and ordinary citizens are being sought to be intimidated into submitting to the authority of the Union government and governments run by the BJP in states without a murmur.
Dissentients and dissidents are finding themselves on the wrong side of the law, as Aparna Sen, Shyam Benegal and others discovered when an open letter they sent to the prime minister earned them a booking for sedition. Sedition charges are being strewn around the country like confetti. Two Karnataka Opposition leaders, both former chief ministers, too were booked under the Sedition Act for criticising income-tax raids against Opposition leaders. In Mangalore, journalists from Kerala were locked up, denied amenities and treated, in a general sense, like criminals.
And, of course, there is the egregious Bhima-Koregaon case, in which the original accused, members of a Sangh Parivar outfit were allowed to roam free, while ten activists, some of them lawyers and academics as well, were arrested in two batches in June and August 2018 on charges of being 'urban Naxals', that odious neologism coined by rabid communalists, and conspiring to assassinating the prime minister. The latter charge would be farcical, had it not been a portent of dangerous things and times. Nine of them are still incarcerated.
The BJP is trying to hit India with two blows. First, it is trying to turn India into a police state. "Authoritarian" is rapidly becoming a weak description. It is also trying to turn India into a communal society and a theocracy. These two are related. Fascist dispensations always need an 'other' to demonise. If the Nazis had the Jews, the BJP has a bouquet: Muslims, infiltrators and Pakistan. What can one say when the prime minister says protesters can be identified by their clothing, implying they are Muslims, and then dare the Congress to give citizenship to all Pakistanis? What exactly is that apropos of?
Fascism also needs diversions. The CAA and NRC are diversionary tactics as well. They seek to divert attention from the mismanagement of the economy, which is hitting, as ever, the poorest the hardest. And from the fact that this government can only perform circus-like stunts, its capacity for governance is close to zero, because the Leader, Prime Minister Narendra Modi, does not seem to have the interest, ability or attention span to deal with the nitty-gritty that good governance involves.
It is to be hoped that in the interests of themselves, the people will vote undesirables out of power as and when the opportunity arises.
Courtesy News Click